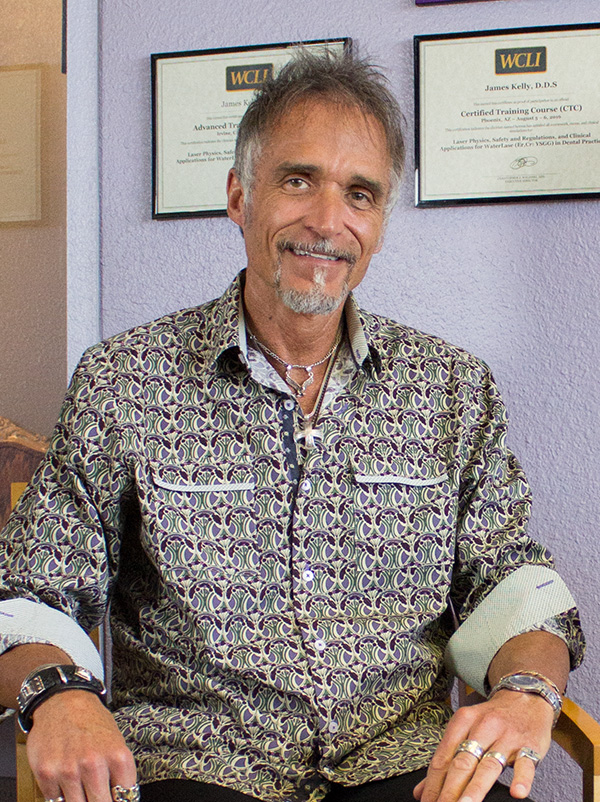 James Kelly, DDS Dr. Jim Kelly was the first in his family to attend college. He graduated from the University of Delaware in 1979 with BA degrees in biology and psychology. Jim became interested in dentistry while observing his college roommate's father at work in his Delaware dental practice. Dr. Ignacio Gispert had been a dentist in Cuba until he fled to America with his family following Castro's rise to power. His story impacted Jim greatly and inspired him to become a dentist.
Dr. Kelly graduated from the Temple University School of Dentistry in the top one-third of his class in 1983 with his Doctor of Dental Surgery degree. He practiced in his hometown of Harrisburg, Pennsylvania, with Dr. Daniel F. Dunn, DMD, in a highly successful dental practice until leaving in February 2015. With his wife, Sherrie, Dr. Kelly relocated to Scottsdale, Arizona, for its warm climate and proximity to family and friends.
Throughout his career, Dr. Kelly has dedicated himself to continuing his education so that he is better able to assist his patients in living long, healthy, and productive lives. A high point in his learning has been with state-of-the-art dental laser technology. After achieving his Associate Fellowship in the use of the Waterlase iPlus™ 2.0 All-Tissue Laser by Biolase®, Dr. Kelly is now able to offer his patients "no shot, no drill, no pain" dentistry. As a Waterlase iPlus™ dentist, Dr. Kelly has taken his standard of care to the next level and has clearly set himself apart from the majority of dentists in the Phoenix area.
Dr. Kelly has also established himself as an expert in Neuromuscular Dentistry, under the mastership tutelage of Dr. Clayton A. Chan, DDS, MICCMO of Occlusion Connections in Las Vegas, Nevada. Dr. Kelly has also received advanced studies in neuromuscular dentistry from the acclaimed Las Vegas Institute (LVI). As a dentist with over 30 years of experience and extensive training, Dr. Kelly is a member of an elite group of practitioners whose foundation for rehabilitative, restorative, and cosmetic dentistry is based in neuromuscular dentistry protocols and techniques. Being an expert in neuromuscular dentistry is essential when seeking to treat the "whole person."
Dr. Jim Kelly is as passionate about living his life to its fullest as he is about practicing dentistry. Dr. Kelly enjoys music, playing the guitar, being fit, rescuing and caring for animals, and baking on Sunday mornings. He also enjoys keeping up with his daughter and her professional photography career, and traveling the world with his wife, Sherrie.
Education
University of Delaware
Temple University Dental School
Las Vegas Institute (LVI) – Neuromuscular
Occlusion Connections/Clayton A. Chan, DDS, MICCMO – Neuromuscular
Biolase® – Sam Low, DDS, Jeff Harrison, DDS, and Stewart Rosenberg, DDS – Laser
OsteoReady/Brady Frank, DDS – Implantology
Meet Our Team
Our team at Dr. Jim Kelly Dentistry is committed to making your visit with us an enjoyable and relaxing experience. In addition to providing dental care, our team offers a variety of services to treat each patient as a whole, including nutrition counseling, neck pillows, and aromatherapy. We enjoy getting to know our patients and helping them reach optimum overall health. To learn more about us and to set up your next appointment with Dr. Jim Kelly, our dneitst in Phoenix, Arizona, please contact us soon at 602-954-1901. We look forward to caring for you!

Michele Decarlo – Office Manager & Insurance Specialist
Check back soon to learn more about Michele!
Sherrie Kelly – Assistant to the Office Manager
With over 18 years of holistic health care experience, Sherrie provides a calming and pleasant presence within our team as she does her job with a sense of simplicity, intuition, and balance. Sherrie is licensed in Massage Therapy, and her years of operating her own private practice has given her exemplary organizational skills and the capacity to communicate well with our patients and team members. Sherrie provides assistance and guidance to our entire team and cares for our patients in a warm and comfortable manner during their visits with us. She is a behind-the-scenes force in most aspects of our practice!
Sherrie and Dr. Jim Kelly have a vision of helping many people through all aspects of dentistry. They maintain a professional atmosphere coupled with respect and fun. It truly is this pair that makes this dental office unique, forward-thinking, and remarkable.
Christina Pflumm – Registered Dental Hygienist
Check back soon to learn more about Christina!
Tanisha Begay – Back Office Manager & Dental Assistant
Check back soon to learn more about Tanisha!